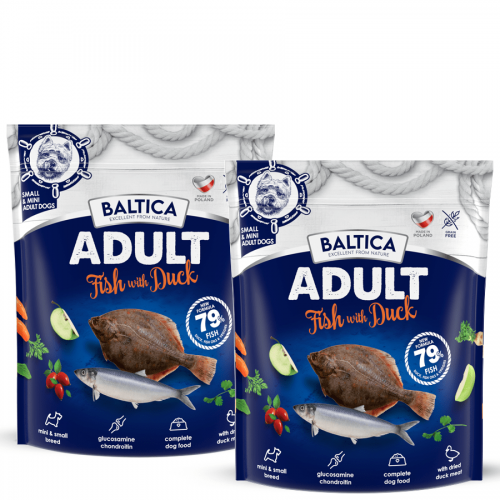  
BALTICA Fish & Duck small breeds 2x1kg
Grain-free Super Premium food for adult dogs based on delicious duck meat and Baltic fish with the addition of pumpkin and cranberries. Dedicated to small and miniature dogs with increased nutritional needs. The optimal amount of easily digestible, hypoallergenic protein with high biological value, high content of unsaturated fatty acids and the addition of cranberries rich in vitamin C make this food an ideal menu for active dogs.
Baltic Fish & Duck is perfect for the nutrition of active dogs, pregnant bitches and in the autumn and winter period, when the dog's diet should be particularly rich in animal protein, high dose of vitamins, minerals and holistic substances strengthening its immunity. Innovative liposomal technology in the production process allows for a much better and faster absorption of vitamins from the feed, which is extremely important in the nutrition of small breed dogs with a short digestive tract.
Hypoallergenic products without compromise! 
The recipe of Baltica food is free from ingredients that may be potential allergens, such as: chicken, gluten, peas, preservatives, grains and pesticides contained in them. Wild fish which is included in our formulas are under constant control of heavy metal content. 
---
Composition: dried duck (19,5%), dried Baltic fish (sprat, herring, flounder) (12,2%), dried potatoes (14,7%), salmon oil (9,5%), potato starch, dried pumpkin (7,3%), beet pulp, potato protein, minerals, dried carrots (4,3%), milk thistle, linseed cake, stabilizer of bacterial flora, dried brewer's yeast, dried apples, dried aronia fruits, dried currant fruits, dried rosehips, MOS (mannano-oligosaccharides), cistus (Cistus L.), dried cranberry, spinach, glucosamine, chondroitin.
Analytical ingredients: Raw protein 28%, Crude fat 15%, Crude fibre 4,2%, Crude ash 11%, Moisture 6,8%, Calcium (Ca) 1,8%, Phosphorus (P) 1,12%
Nutritional additives / kg: Vitamin A (E672) 12,000 IU , vitamin D3 (E671) 1200 IU, vitamin E (3a700) 70 mg, zinc (zinc (II) sulphate monohydrate) 36 mg, iron (iron (II) sulphate monohydrate) 24 mg, manganese (manganese (II) oxide) 24 mg, copper (copper (II) sulfate pentahydrate) 10 mg, iodine (potassium iodide) 0.4 mg, selenium (sodium selenium) 20 mg, natural antioxidant 0.01%.
---
DAILY DOSE:
Always provide your dog fresh, cool water. 
Dog body weight
(kg)

Daily dose
(g)

1 
30
2-4 
55-70
5-8
100-120
8-10
120-145
>10
>145






LIPOSOMAL
VITAMINS

HYPOALLERGENIC
FORMULA 

STABLE BACTERIAL
FLORA

HOLISTIC PRO-HEALTH SUBSTANCES

Scientific research has proven that the ingredients administered in liposomal form are absorbed. 

Free from: chicken, gluten, peas, artificial preservatives, cereals and pesticides contained in them. 

Enriched with prebiotics stimulating stability of bacterial flora. 

 30% of the composition of our food is reserved for health-promoting substances.  
Podziel się swoją opinią z innymi właścicielami