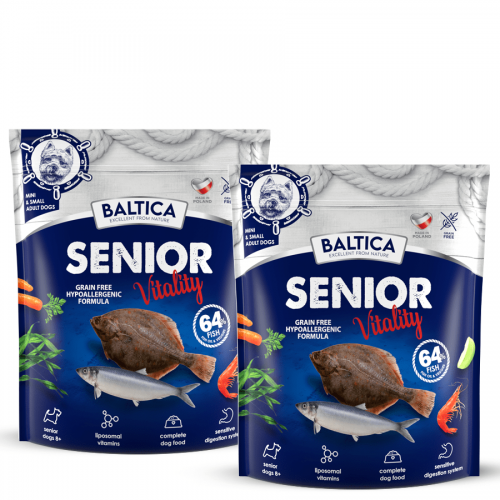  
copy of BALTICA Senior Vitality small breeds 12kg
Created on the basis of Polish fish (sprat, herring, flounder) with the addition of marine algae with powerful nutritional values ​​and Antarctic krill which is a source of astaxanthin and fatty acids (EFA). The low glycemic index of the food and the reduced fat content reduce the risk of obesity to which older dogs are exposed.
Senior Vitality is a perfectly balanced food that provides a source of easily digestible, hypoallergenic marine proteins suitable for dogs with food intolerances. The recipe was enriched with a complex of chondroprotective substances that condition the proper functioning of the locomotor system and taurine for the proper functioning of the nervous system and the heart.
Hypoallergenic products without COMPROMISE!
Senior Vitality is a food free from ingredients that may be potential allergens, such as: chicken, gluten, legumes (peas), preservatives, grains (including rice) and pesticides contained in them. All wild fish included in the feed are under the constant control of heavy metal content.
---
Ingedients:  dried Baltic fish (sprat, herring, flounder) (30%), dried potatoes (26.2%), sunflower seeds, salmon oil (5.9%), dried apples, beet pulp, linseed, hemp cake, minerals, parsley (1.5%), black currant, milk thistle (Silybum marianum), krill (1%), shrimp (0.5%), carrot (0.4%), sea algae (0.1%) , taurine (0.06%), glucosamine (0.06%), chondroitin (0.03%). Energy: 3540 kcal / 1000g
Energy: 3540 kcal/ 1000g
Analytical ingredients: Crude protein 26%, Crude fat 12%, Crude fiber 4%, Crude ash 8%, Calcium (Ca) 1.4%, Phosphorus (P) 1%
Nutritional additives / kg: Vitamin A (E672) 18,000 IU , vitamin D3 (E671) 1800 IU, vitamin E (3a700) 105 mg, zinc (zinc (II) sulphate monohydrate) 48 mg, iron (iron (II) sulphate monohydrate)  36 mg, manganese (manganese (II) oxide) 36 mg, copper (copper (II) sulfate pentahydrate) 15 mg, iodine (potassium iodide) 0.6 mg, selenium (sodium selenium) 0,3 mg, natural antioxidant 0.01%. Naturally preserved with mixed tocopherols.
---
DAILY DOSE:
Make sure your dog always has access to fresh water. The values ​​given in the table are indicative. Depending on the needs, the amount of food given should be reduced or increased.
| | | |
| --- | --- | --- |
| Masa ciała psa (kg) |   Dzienna porcja (g) | Kontrola masy ciała (g) |
| 15 kg |   170 |  150 |
| 20 kg |   220 |  190 |
| 25 kg |   260 |  230 |
| 30 kg |   300 |  260 |
| 40 kg |   370 |  330 |
| 50 kg |   440 |  390 |
| 60 kg |   510 |  440 |
| 70 kg |   570 |  500 |
Podziel się swoją opinią z innymi właścicielami