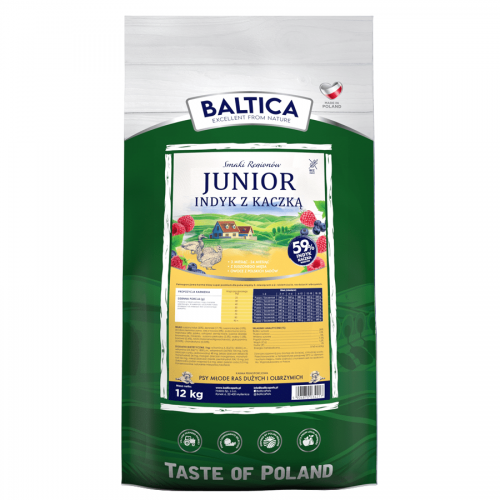  
BALTICA Turkey with Duck JUNIOR 12kg
Complete super premium dry food for dogs between 3 months and 2 years of age, large and giant breeds. Nourishing formula with turkey and duck enriched raspberries and blueberries.
Hypoallergenic products without COMPROMISE!
The recipe of the feed is free from ingredients that may be potential allergens, such as: chicken, gluten, peas, preservatives, grains (including rice) and pesticides contained in them.
---
Ingredients: dried turkey (20%), potatoes , dried duck (15%), potato starch, salmon oil (8%), beet pulp, carrot (4%), apples, milk thistle, linseed, dried brewer's yeast, minerals, dried parsley (2.3%), raspberries (1.5%), blueberries (0.4%), MOS (mannano-oligosaccharides), glucosamine (0.06%),chondroitin (0.03%).
Analytical ingredients: Crude protein 28%, Crude fat 15%, Crude fiber 3%, Crude ash 7,5%, Calcium (Ca) 1.2%, Phosphorus (P) 1%
Metabolic energy: 3760 kcal

Nutritional additives / kg: Vitamin A (E672) 12,000 IU , vitamin D3 (E671) 1200 IU, vitamin E (3a700) 70 mg, zinc (zinc (II) sulphate monohydrate) 36 mg, iron (iron (II) sulphate monohydrate) 24 mg, manganese (manganese (II) oxide) 24 mg, copper (copper (II) sulfate pentahydrate) 10 mg, iodine (potassium iodide) 0.4 mg, selenium (sodium selenium) 20 mg, natural antioxidant 0.01%. Naturally preserved with mixed tocopherols.
---
DAILY DOSE:
Make sure your dog always has access to fresh water. The values ​​given in the table are indicative. Depending on the needs, the amount of food given should be reduced or increased.
DAILY INTAKE (g)

Adult dogs weight (kg)

Dogs age in months

1-3

3-4

4-6

6-12

12-18

18-24

25 kg
PUPPY
240g
260g
280g
260g
260g
30 kg
PUPPY
260g
300g
310g
300g
290g
40 kg
50g
280g
370g
380g
370g
360g
50 kg
50g
300g
410g
460g
450g
430g
60 kg
50g
340g
510g
510g
500g
500g
70 kg
50g
350g
550g
580g
570g
570g
80 kg
50g
400g
600g
650g
640g
640g
> 90 kg
50g
410g
660g
700g
680g
680g
Podziel się swoją opinią z innymi właścicielami