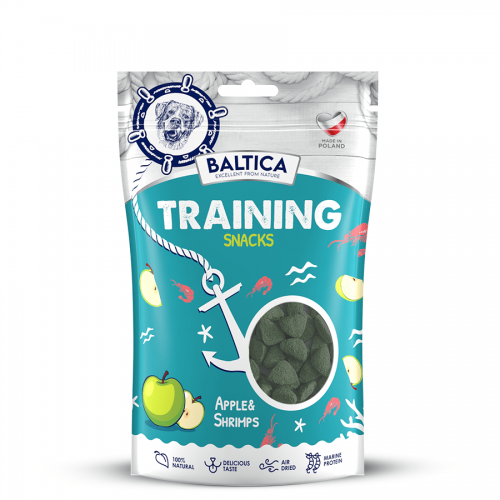  
BALTICA Training Snacks with Apple and Shrimps 150g
Natural training treats for dogs with dried shrimps and apple. Perfect as a reward during training, exercises and competitions.
100% natural training snacks are an extremely tasty combination of high-quality and easily digestible shrimp protein and apples. Apples support the digestive system, contain many minerals, incl. potassium, zinc, iron and vitamins A, C, E, B. These fruits are a source of flavonoids and antioxidants.
Snacks created for training!
- shape perfectly suited for single administration
- do not get your hands dirty, do not leave stains in pockets
- they do not crumble and remain crunchy
- an attractive fragrance adds motivation during training!
Dosage: up to 50 g / 10 kg b.w./day
Always provide your dog with fresh, cool water.
---
Composition:  dried shrimp (18.7%), potato starch, beet pulp, dried potatoes, milk thistle, corn, dried apples (5.6%), dried salmon, minerals, salmon oil. Preserved naturally with a mixture of tocopherols.
Analytical components: Protein 25%, Ash 10%, Fat 8,5%, Moisture 6,5%