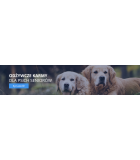 Senior Dogs
Kiedy należy zmienić karmę?
W przypadku psów ras średnich nad zmianą diety należy zastanowić się pomiędzy 8 a 10 rokiem życia. Natomiast u psów ras dużych i olbrzymich zmiana żywienia powinna nastąpić wcześniej, bo między 6 a 8 rokiem życia.
Powinniśmy również obserwować swojego pupila i zainteresować się tą kwestią szczególnie gdy notujemy u niego spadek formy, wolniejsze ruchy, spadek masy mięśniowej czy drażliwość.
Jaką karmę wybrać?
Baltica stworzyła wyjątkową karmę dla psich seniorów na bazie polskich ryb (szprot, śledź, flądra) z dodatkiem alg morskich o potężnych walorach odżywczych i kryla antarktycznego będącego źródłem astaksantyny oraz kwasów tłuszczowych (NNKT). Niski indeks glikemiczny karmy oraz obniżona zawartość tłuszczu pozwalają na zmniejszenie ryzyka otyłości, na którą narażone są zwłaszcza psy w starszym wieku.
W Baltica Senior Vitality znajdziemy przede wszystkim wysoką zawartość mięsa rybiego (aż 30%, które dzięki procesowi suszenia odpowiadają aż 90% mięsa świeżego), biopierwiastki w formie liposomalnej które zapewniają 90% lepszą biodostępność a także tak zwane SUPERFOODS: algi morskie i kryl antarktyczny.
To co wyróżnia również Senior Vitality to fakt, że jest pokarmem wolnym od składników mogących być potencjalnymi alergenami takimi jak: kurczak, gluten, rośliny strączkowe (groch), konserwanty, zboża (w tym ryż) oraz znajdujące się w nich pestycydy. Z kolei wszystkie dziko żyjące ryby wchodzące w skład karmy znajdują się pod stałą kontrolą zawartości metali ciężkich.
Dieta i co jeszcze?
Dodatkowo dietę naszego psa możemy uzupełnić o prozdrowotne oleje z ryb, będące naturalnym źródłem wielonienasyconych kwasów tłuszczowych z rodziny n-3, a zwłaszcza kwasu EPA i DHA. Szczególnie polecane są wśród psów chcących zachować zdrowe stawy, kości, nerki czy serce.