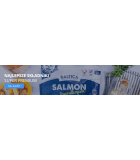 Adult dogs
Baltica complete dry foods are hypoallergenic, with an optimal level of high-quality protein. Free from grains, gluten, preservatives, pesticides and antibiotics. They ensure excellent well-being of dogs, especially breeds with extremely sensitive digestive tracts. Baltica is a Polish ecologically aware brand, presenting a range of wholesome food and delicacies, the ingredients of which are obtained from responsible marine sources.
Karma dla psów dorosłych małych ras (do 10 kg)
Małe rasy takie jak Cotton de Tulear, Shih tzu, West, York, Mops, Maltańczyk, Chihuahua czy inne potrzebują by ich karma była bogata w mikro i makroelementy. Ważne jest by zadbać o właściwą podaż łatwo przyswajalnego, hipoalergicznego białka, która ma bezpośredni wpływ na budulec kości. Zwróćmy uwagę wybierając karmę dla naszego psa by była również bogata w witaminy, takie jak C czy D, które pozwolą na zachowanie odpowiedniego poziomu energii w organizmie naszego pupila.
Karma dla psów dorosłych średnich ras (do 30 kg)
W przypadku średnich ras psów takich jak Border Collie, Beagel, Cockel Spaniel, Owczarek Szkocki, Chart i innych ważne jest by dostarczyć wraz z pokarmem odpowiednią ilość zestaw mikro i makroelementów w formie liposomalnej dla lepszego przyswajania. Minimum 70% karmy powinno stanowić mięso oraz ryby. Warto również by zadbać o dodatek takich składników jak jabłko czy żurawina, które wpływają na właściwe funkcjonowanie układu pokarmowego oraz dodają energii.
Karma dla psów dorosłych dużych ras (powyżej 30 kg)
Jeżeli jesteś szczęśliwym właścicielem Golden retrivera, Labradora, Bernardyna, Owczarka Niemieckiego, Doga czy Nowofundlanda, warto zdecydować się na karmy Baltica, które są dedykowane psom ras dużych i olbrzymich. Skoncentrowany zestaw składników chondroprotekcyjnych jak chondroityna, glukozamina wzmocnią stawy Twojego psa, a dodatek owoców takich jak gruszka czy czarna porzeczka sprawią, że będzie to ich ulubiony pokarm!
Na co zwrócić uwagę kupując karmę?
Zawsze wybieraj produkty dopasowane do wagi Twojego psa. Dzięki temu unikniesz problemu z pogryzieniem pokarmu, bowiem w każdej kategorii wielkość krokieta dopasowana jest do rozmiaru i możliwości Twojego psa.
Po drugie zawsze czytaj składy. W sklepie Baltica każdorazowo znajdziesz szczegółowy wykaz składników, które pozwalają na podjęcie świadomej decyzji. Receptura karm oferowanych przez nasz sklep jest wolna od składników mogących być potencjalnymi alergenami, takimi jak: kurczak, gluten, groch, konserwanty, zboża (w tym ryż) oraz znajdujące się w nich pestycydy. Dzięki temu Twój pies jest z nami bezpieczny.