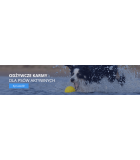 Active dogs
Jak dobrać karmę dla aktywnego psa?
To co najważniejsze w wyborze karmy to jej skład oraz jakość zastosowanych składników. Warto czytać etykiety przed zakupem i wybierać tylko to co najlepsze dla naszego psa. Taka właśnie jest Baltica! Nasze pokarmy zawierają wysokie stężenia substancji niezbędnych do prawidłowego funkcjonowania organizmu Twojego psa. W diecie psa aktywnego należy zadbać nie tylko o właściwą podaż białka i prozdrowotnych tłuszczów, ale również o substancje wspomagające regenerację organizmu oraz wspierające chrząstki stawowe. Twój pies potrzebuje diety, która dostarczy mu 10 niezbędnych aminokwasów, wśród których szczególną rolę odgrywa tauryna.
Tłuszcz w pokarmie psa aktywnego powinien być głównie pochodzenia zwierzęcego. Wpływa on nie tylko na smakowitość karmy, ale jest również źródłem DHA oraz EPA, czyli kwasów tłuszczowych, których zwierzę nie jest w stanie syntezować samodzielnie.
W karmie suchej wysokość tłuszczu nie powinna spadać poniżej 20-25%. Powinna ona być również zaopatrzona w błonnik pochodzenia roślinnego.
Polecana karma dla Twojego psa!
Baltic Fish with Duck to propozycja, która doskonale sprawdzi się w żywieniu psów aktywnych, suk w ciąży oraz w okresie jesienno - zimowym, kiedy dieta psa powinna szczególnie obfitować w bogatą w białko zwierzęce, wysoką dawkę witamin, minerałów i substancji holistycznych wzmacniających jego odporność. Zastosowanie innowacyjnej w procesie produkcji technologii liposomalnej pozwala na dużo lepszą i szybszą przyswajalność witamin z karmy.
Karma występuje w wersji dla psów małych i miniaturowych oraz dla ras średnich i dużych.
Szukając idealnej karmy dla swojego psa, nie zapomnij również o odpowiedniej suplementacji. Tu ze wsparciem przychodzi marka Holista, która oferuje najwyższej jakości tłuszcze w łatwo przyswajalnych dla Twojego pupila olejach.